Photo by Markus Winkler on Unsplash
How MasterCard Is Reshaping The Digital Economy- All You Need To Know
Did you know that more than 2.8 billion people use credit cards around the world?
The electronic payment industry doesn't only dominate financial services but also has become one of the most reliable ways to conduct transactions.  Apparently, there are four companies including MasterCard, Visa, Discover, and, American Express that handle the majority of the card payments of the world.  MasterCard particularly has unique offerings as it doesn't issue any card or extend credit.
That means the MasterCard Payment card is issued via a co-branded relationship. While the company doesn't issue or extend any card, it partners with many brands and offers plenty of products encompassing debit, credit, and many prepaid card options.
Most people in the USA have at least one credit and debit card. However, many entrepreneurs own a number of debit and credit cards to seek advantages of the rewards, promotional benefits, and cash-back opportunities that MasterCard offers.
That is to say, as financial technology continues to evolve, you may see tons of prepaid card offerings in the market, generating profits in billion. If you're considering making MasterCard, learning what benefits you can obtain through its affiliated program is beneficial.
Understanding MasterCard
MasterCard generated profits of $16.9 billion in 2019, with a significant payment volume of $7.5 trillion.  Typically, MasterCard includes some core products such as consumer debt, commercial product business, and prepaid cards.
It has a reportable business segment called Payment Solution. The popular financial service, like Visa, its revenue mainly comes from data processing and service fees. However, the service has a different way to characterize the fees.
MasterCard negotiates and calculates its service fees as a percentage of international dollar volume. It has data processing fees referred to as "switching fees" which are fixed, small, and cost per transaction. The pioneer of financial technology has majorly three offerings in card levels;
You can use the financial business service anywhere in the world. It operates a comprehensive payment network and collaborates with many institutions for different card offerings.
Keep on reading to find out more about MasterCard's affiliated programs.
MasterCard- Affiliated Programs
CommissionSoup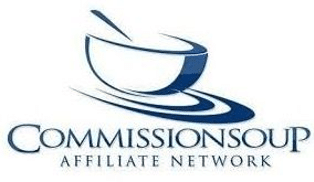 CommissionSoup is a great CPA network that has the most high-profile credit card programs people can avail online.  Finance experts consider CommissionSoup one of the best credit card affiliate programs because of its excellent credit programs.
The network has been working for 18 years and developed the affiliation with credible names to manage and handle credit cards.  It has many offers from popular and recognizable brands including Mastercard, Credit One, AMEX, and VISA card.
With CommissionSoup, publishers get access to a variety of affiliate offers that provide them something different from regular credit card affiliate offerings. Plus, publishers can have access to certain marketing materials and proprietary tracking technology.
The Green Dot Primor Master Card is one of the affiliate programs for credit cards you will find with Commission Soup. The programs like this make CommissionSoup a secure credit card that provides an easy chance to improve your FICO score.
Moreover, when you promote a secured credit card, it is more like a "niche". That means you will have less competition on your site.  You also have a large audience to promote. It is particularly good if you have bad credit.
Interestingly, in the coming few years,  the program is expected to include millions of consumers.
Strength: credit card and finance
Cookie: one month
Commission: $10-$50 depending on your offer
Minimum payment: $100
Payment method: Check
Programs offered: CPA
It doesn't here; CommissionSoup has access to an array of credit card affiliate programs for consumers and different businesses.
Credit One Bank®- Unsecured Visa® Free Credit Score Tracking
Indigo® Unsecured MasterCard®
AccountNow®- Gold Visa® Prepaid Card
Scotiabank®*- American Express® Card
AccountNow®- Prepaid Visa® Card
The Progress Platinum Elite MasterCard®- Secured Credit Card
Applied Bank®- Secured Visa® Gold Preferred®
Secured MasterCard® Gold Card
Indigo® MasterCard® (Fast Pre-qualification)
 Credit.com
Credit.com manages a reseller program and affiliate program focused on credit card and finance offers. Publishers may choose from credit cards, loan products, and financial consulting services.
Although it is smaller compared to other credit card affiliate programs,  it has attracted advertisers and promoters from the largest and credible credit card companies such as MasterCard, Chase, and American Express.
It supports publishers via a proprietary platform that gives them access to several advanced and highly developed account management options. These include educational materials to help consumers project skills and expertise and tracking tools with many customized alerts.
In other words, it offers a credit card that pretty much suits people from any niche including those with terrible FICO scores. That means your audience and visitors can find the best credit card for their individual needs.
Isn't pretty amazing?
Strength: finance and credit card affiliates offer
Cookie: Set by the advertiser and vary depending on the offers.
Commission: Set by the advertiser and may vary depending on the offers.
Minimum payment: $100
Payment method: bank wire, check, direct deposit
Programs offered: CPA, CPS
Perks of Gold and Standard MasterCard
Although the MasterCard Standard tier credit card has the lowest available tier, it still comes with many perks that include identity theft security and purchase protection.
Here is a primer of benefits you can get with MasterCard and its affiliated programs.
·         Zero Liability Security or Protection
Zero liability security protects cardholders if someone uses their card to make an unauthorized purchase. This may include purchases made online, in person, via ATM transactions, or over the phone. However, it is essential to report the fraud charges to qualify for zero liability security.
·         Global Service
Global Service is an additional perk for people with MasterCard, especially the ones who frequently travel.  The service allows cardholders to report stolen or lost cards, cash advances, or access an emergency card replacement.
You may also use the service to find your ATM and request help with different concerns and questions you may have related to the account.
·         MasterCard ID Theft Security
MasterCard ID theft security protects cardholders from any identity theft at no additional cost. The comprehensive and reliable service monitors credit reports for all potentially fraudulent activities including accounts opened or new cards in the cardholder's name.
If you experience identity theft, MasterCard assigns you a resolution specialist to guide you throughout the process.
Benefits of Platinum MasterCard
The Platinum MasterCard is typically the next best tier up from Gold and Standard. The card includes almost all the Standard and gold MasterCard benefits and some additional experiences and rewards.
Curated Offers and Benefits
In addition to the advantages you can obtain from Gold and Standard cards, Platinum MasterCard makes cardholders eligible for a plethora of curated benefits. These may include extra discounts and perks in categories like sports, travel, arts, culinary, entertainment, and shopping.  In fact, you may have hundreds of different offers to pick from at places all over the globe.
Summing Up
There is no denying that credit card is a highly competitive niche and MasterCard is no exception. It offers numerous benefits and perks to its cardholders and partnership schemes are just one example.  Whether you're a marketer or blogger, you can benefit from these programs as well as other perks.
Links
https://wise.com/gb/blog/credit-card-affiliate-programs
wahm.com/articles/how-a-credit-card-affiliate-program-works.html