The Dow fell nearly 4,000 points last week on Corona Virus fears.
Definitely not a good week to be looking closely at our 401Ks.
"For every action there is an equal and opposite reaction", we know as Newton's third law of motion. And the same law of physics seems to hold true in economics as well. Meaning, that money leaving stocks went somewhere.
We have all heard people practically bragging that their first mortgage in 1981 was at 18% interest. And today we cannot fathom that number, not with current rates closer to the 2s than 4s.
But do you know what was also true in 1981? Those passbook savings accounts and short term Certificates of Deposit were paying 11.5% interest. Better than our .125% interest on our savings.
My point is, sure, interest rates were high. But so were the yields on savings, without any of the risk of putting the money in stocks or anything other than an FDIC insured account.
Savings accounts were easy money in the early 1980s.
Not so today. But for every action there is an equal and opposite reaction.
As stocks, and our 401Ks lose value faster than they have in over a decade, bonds are rallying which is causing mortgage rates to plummet…to all-time lows.
Offsetting Stock Losses with Mortgage Savings
It is possible. Look at this example. Mr Homeowner bought his home in April, 2007, and locked in a 4.75% 30 year fixed rate. And, after the events of last week, he wants to refinance. Take a look at the difference in savings: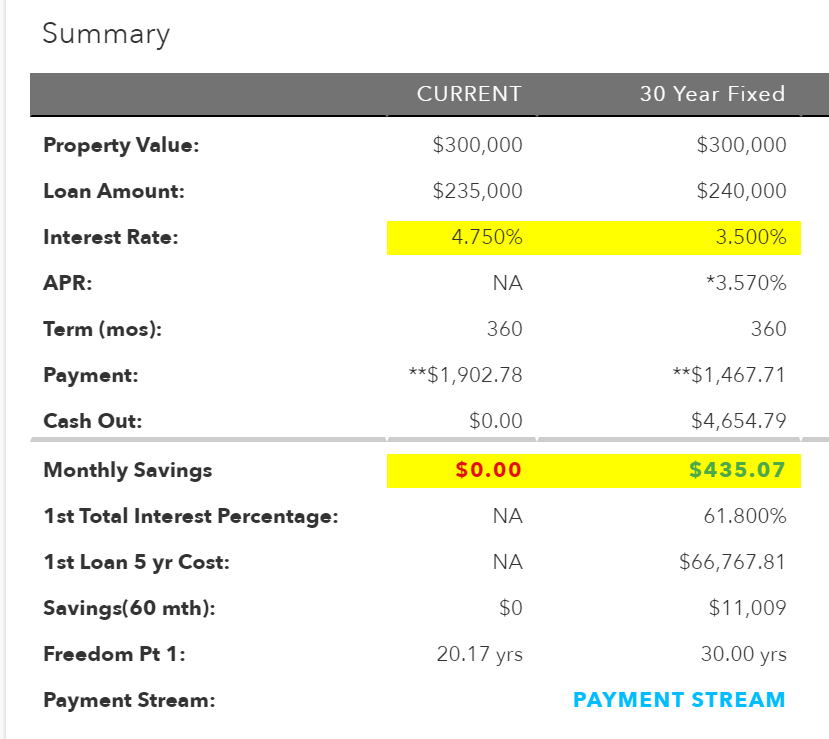 Or, he could save a whole lot more in interest by going to a 15 year fixed rate. Take a look:
Here is a copy of that whole report.
Saving $435/month, or $5200 a year is a significant amount that will go a long way to offsetting the losses in that 401K last week.
Even a greater savings is jumping from that 30 Year fixed rate to the 15 Year. In those next 15 years the home would be paid off AND would have cut $62,000 from the interest that would have been paid out.
So, while stocks are taking a beating…bonds are not. Perhaps time to offset the investment losses with mortgage savings.
And, I can help. You can reach me HERE.